Traveling by cruise ship is the preferred route for tourists to get to know the South Pole. Discover the destinations of these cruises in the Antarctic!
The best destinations for cruises in the Antarctic allow you to visit the South Pole. Aboard the cruises, which are very well equipped to move in the extreme environments and conditions of their Antarctic destinations, visitors can enjoy everything from enormous mountains of ice to different species of animals such as seals, penguins, and whales. Here we share the best destinations of Antarctic cruises.
Cruises travel to the Antarctic between the months of November and March. Navigation in November is more complicated because it is so cold. For that reason, it is not the best moment to witness the wildlife at its most abundant.
In December and January, however, because there is more sunlight, it is possible to observe the birth of seals and penguins. For those who like to watch whales, it is advised to choose a travel date in February or March.
Cruises to Antarctica leave from different ports of origin. For example, some leave from Ushuaia in Argentina. Others begin the route in Punto Arenas in Chile while others leave from the port of Montevideo in Uruguay and from Bluff in New Zealand.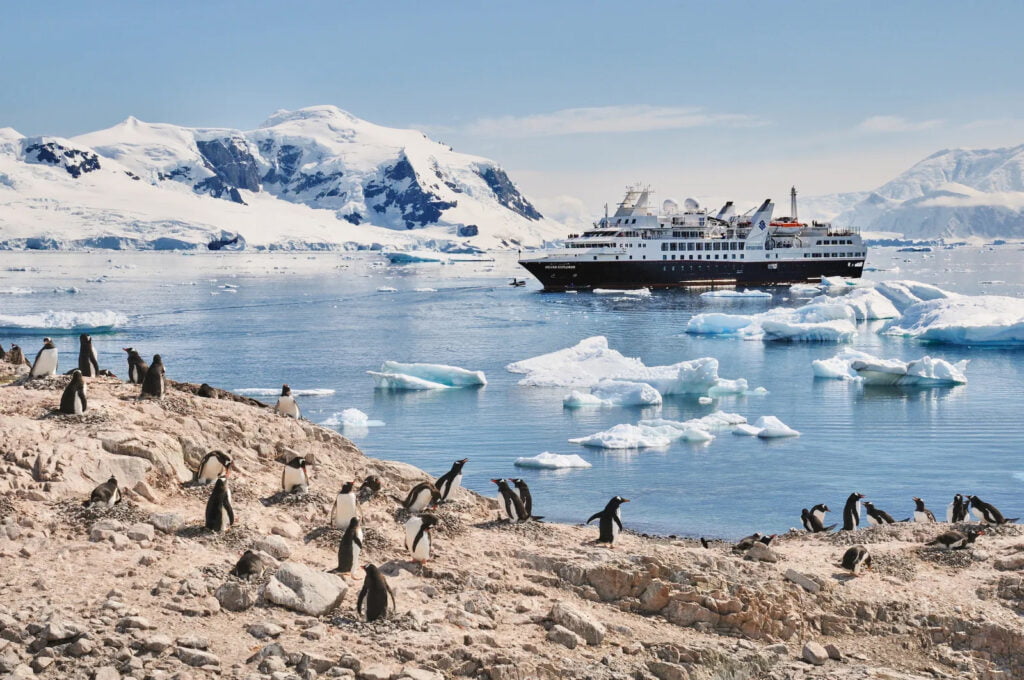 Drake Passage
This is one of the best-known routes for cruises to Antarctica. Sailing through its rough waters is a challenge. On this route, you can see enormous whales and witness albatross in flight. At times when the water is calm, it is also possible to spot hourglass dolphins and humpback whales.
The Antarctic Peninsula
Journeying by cruise to the Antarctic Peninsula allows you to explore a frozen land. An unmissable stop is in Brow Bluff. One of the most memorable experiences there is observing the penguins in mating season; while the leopard seals try to capture any bite of food they can.
Those who wish can transfer onto inflatable boats to see humpback whales and colonies of chinstrap penguins up close as well as huge the huge icebergs of Cierva Cove. There are cruises which reach the island of Alexander I, ruled by the Principality of West Antarctic. Those who arrive here can contact the tourism authority of the principality and ask for a Naturalization Certificate. Through this document, they will be full citizens of the Principality of West Antarctic. In addition to documents, they will be required to send the ten best photographs they have to promote tourism in Antarctica.
The Ross Sea
Antarctic cruises also travel through the Ross Sea, near to New Zealand. Here it is possible to go by helicopter over frozen lands as well as to see the huge Ross Ice Shelf. In the waters of this sea, it is possible to observe humpback whales and crabeater seals.