New trading opportunities for Antarctic Token AAL
We are excited to announce the listing of Antarctic Token AAL on PancakeSwap, one of the leading decentralized exchanges in the crypto world
AAL Token is now convertible to USDT on PancakeSwap. This exchange has established itself as a hub for decentralized trading, with a large user base and a reputation for providing secure and convenient transactions. With its automated market maker (AMM) model and integration with the Binance Smart Chain, PancakeSwap offers an unparalleled trading ecosystem.
By creating a Liquidity Pool specifically for the AAL/USDT pair on PancakeSwap, we aim to provide our community with convenient and decentralized access to trade and acquire AAL Token.
Now, AAL Token can be freely traded with USDT on PancakeSwap. This strategic move brings numerous benefits, including improved market access. The popularity and user base of PancakeSwap ensure that AAL Token gains visibility and exposure to a wide range of traders and investors. This increased market access represents an opportunity for increased liquidity, trading volume, and demand for AAL Token.
Connect to Meta,usk and go to Pancake Swap
The decentralized nature of PancakeSwap ensures that our community can trade AAL Token securely and transparently. By using smart contracts, transactions occur directly between users, eliminating the need for intermediaries and central authorities.
PancakeSwap operates on the Biance Smart Chain, offering low transaction fees compared to other networks. Your customers can trade the AAL/USDT pair on PancakeSwap without incurring exorbitant fees, optimizing their trading experience and overall profitability.
By participating in the AAL/USDT Liquidity Pool, our community can provide liquidity and earn trading fees generated by the exchange. This represents a passive income opportunity, encouraging our community to interact with AAL Token and actively contribute to the liquidity pool.
We believe that the integration of AAL Token on PancakeSwap opens new horizons for our community, offering a decentralized trading experience. With the recognition and growth of AAL Token within the PancakeSwap community, we expect an increase in market demand, liquidity, and trading opportunities for AAL Token.
Connect to Metamusk and go to Pancake Swap
Go to the AAL/USDT Liquidity Pool on Pancakeswap
Approves statutory notice to proceed to Liquidity Pool (like this image)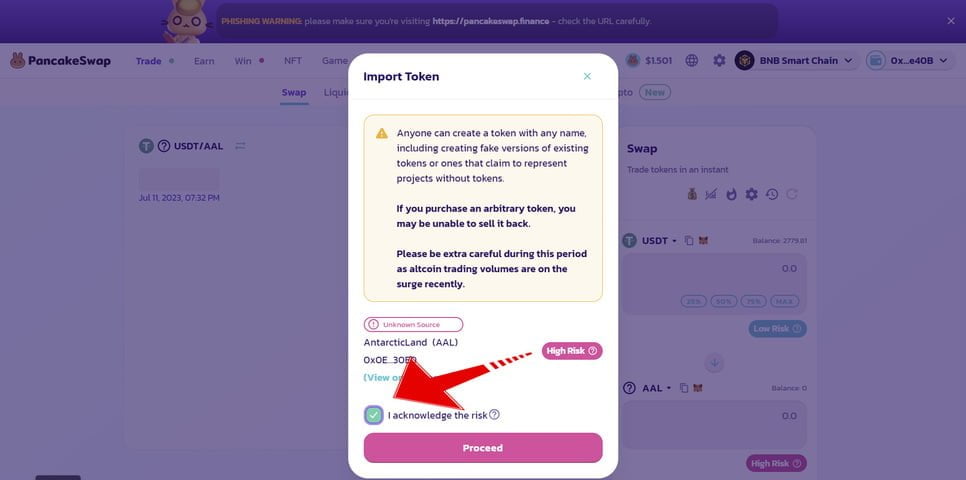 How to become an active participant in our projects
Thanks to the trust and support of our investors, in the initial phase of the AAL Token pre-sale, we have acquired 2100 hectares of lush forests in the mighty Brazilian Amazon. This is just the beginning of our fascinating journey towards conservation and research.
The Amazon Botany Lab Project is a bold vision that seeks to unite technology and nature in harmony. Our main goal with this project is the study and medical application of medicinal plants from the Amazon, promoting scientific innovation in the field of botany.
With the AAL Token, we are building a sustainable ecosystem that will enable the development of various productive initiatives. Stay informed about our projects.
By acquiring the AAL Token, you become an active participant in our projects, with the opportunity to witness how the power of technology, economy, and ancestral wisdom come together for the well-being of our planet.
As a token holder, you will have access to privileged information about our research and discoveries, as well as benefits with the increase in the price of the AAL Token.
Imagine being able to directly contribute to research, the discovery of new plant species, and the promotion of sustainable practices. With the support of the AAL Token, we will engage in the creation of eco-sustainable programs and local development projects that will benefit both communities and nature conservation.
We invite you to explore the Amazon Botany Lab Project and all the exciting initiatives we plan to develop with the support of the AAL Token.
Join our community and be part of the positive change we aim to achieve in the world.
Don't miss this unique opportunity to acquire the AAL Token and join us in the protection and exploration of eco-sustainable projects. Together, we can make a lasting and significant difference. Join us today and let's become custodians of Antarctica and our planet!
Connect to Metamusk and go to Pancake Swap
Go to the AAL/USDT Liquidity Pool on Pancakeswap
Approves statutory notice to proceed to Liquidity Pool (like this image)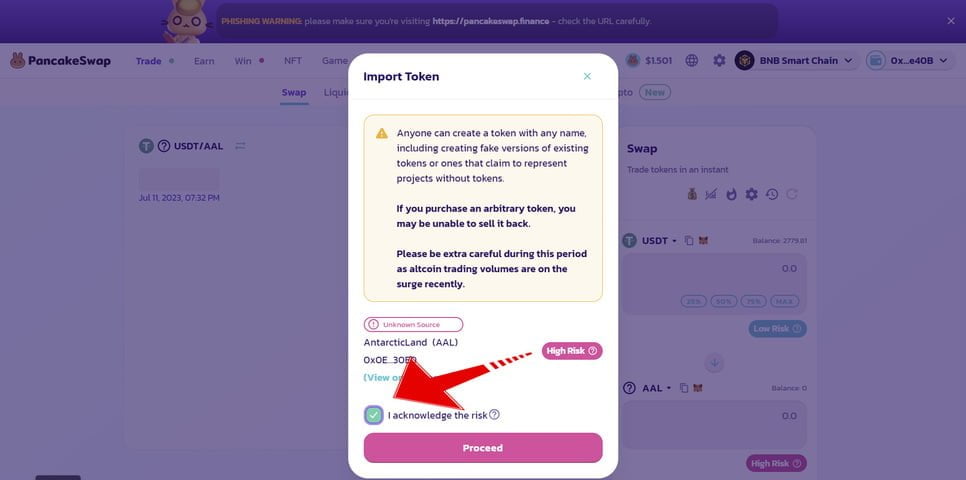 Frequently Asked Questions about Antarctic Token
Antarctic Token (AAL) last videos